Appliance Removal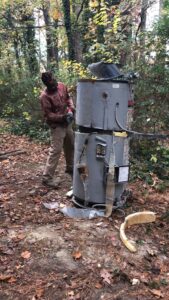 All appliances eventually become junk appliances – they get old and need to be replaced at some point in our lives and this is where junk appliance removal service in Richmond is here to help. Getting a brand new appliance can be one of the most exciting times of someone's life. It's the part that comes next that is difficult. Moving your old appliances out of your home or business and to the proper disposal facility can be difficult for many homeowners, renters or business owners. Most appliances are very heavy, bulky and difficult to move. Getting that appliance removed doesn't have to be difficult or stressful. The friendly Junk Goats team is on your side when it comes to removing your old appliances. From the very first call, the Junk Goats strive to be the best and most professional junk removal service in Richmond, Virginia.
The first step in this process requires a client to call or book with the Junk Goats Junk Removal Services of Richmond online. Next is to schedule a day and time for our team of Goats to come out to your property and give you a firm, free, and no obligation quote. The Goats will compare availability with the client and find a day and time that works for both the client and Junk Goats. Once the client has chosen a day and time, we will proceed to send them their confirmation text so they know and have proof of exactly what day and time we will be arriving.
At the beginning of the day of the job, we will do all of our checks to ensure everything is functioning properly and no fluids are low on the truck. The Junk Goats also make sure there are no fluid leaks in any of the fluid reservoirs. We will check tire pressure for every tire before getting on the road and will make sure that we have the spare tire in case of an emergency. On the way to the job site, the Junk Goats will place a courtesy call to the client a text about 30 minutes in advance. Once the Junk Goats team has arrived at the job site, the Goats will call or message the client (if they don't already know we are there). Once contact has been made with the client, the Junk Goats will work hard to fulfill the client's every wish, staying professional and always being friendly to the client. Building this type of relationship with the client makes for a more comfortable work space and more trust between client and employee. The Junk Goats will then observe your appliance and give you that firm, free, and no obligation quote. Our Goats will also ensure that there are no water leaks or exposed cables that could make for a dangerous workplace.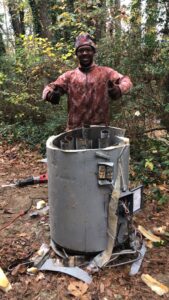 When it comes to appliances, there are many types and varieties to choose from but our junk removal service Richmond stands out from the rest. Things like dishwashers, clothes washers and refrigerators all contain water when they are in their functioning state. The Junk Goats will take the extra time to make sure there is no water leakage, especially when inside someone's home or business. Once you're given that quote and have decided to accept the quote, the Junk Goats will begin with the job and proceed to get everything removed right then for you, utilizing tools like a dolly to transport the appliance easier and faster.
Hot water heaters – Usually filled with water, the Junk Goats will proceed to dump the water out in a safe place, ensuring that no water is dumped in any place where it will cause harm or damage to the property.
Kitchen oven and stove – ovens and stoves are big heavy appliances that usually can't be moved by one person. In order to remove a kitchen oven and stove, one person will have to be on each side of the stove or oven to ensure nothing is damaged in the process. The Junk Goats take their time and remove everything safely and professionally.
For a lot of people, broken water lines and appliances have compromised the integrity of their house, and in some cases whole houses have been destroyed or badly damaged. The Junk Goats junk removal service Richmond will make sure that there are no spilled fluids or harmful chemicals that could cause any harm or damage to anyone or anything on the job site. All appliances are run by electricity. The Junk Goats Junk Removal service takes every precaution to ensure no one is injured or hurt while removing your appliance. The Junk Goats team will tie or tape up any cords or wires hanging from the appliance as anything hanging could cause a tripping hazard – and carrying heavy objects like appliances and tripping don't mix well. With the help of the Junk Goats, our safety guidelines and our professionalism, we will have your appliance moved efficiently, safely, and professionally. No one else compares to the Junk Goats Junk Removal Service.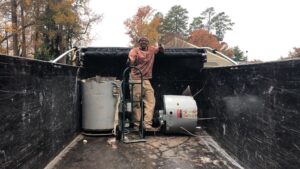 It takes a team of Goats to remove any appliance bigger than a mini-fridge. The Junk Goats are always ready for any type of appliance removal. Junk Goats Junk Removal utilizes their tools and works smarter, not harder.
Whether you have an old washer and dryer, dishwasher, hot water heater, microwave or kitchen oven and stove, the Junk Goats team can quickly and easily get these bulky items out of there in no time. Simply fill out our form online, or give us a call to start our super easy, stress free appliance removal process. The Junk Goats are happy and excited to help you remove your appliance!