The Best Junk Removal Ashland VA Has to Offer!
Keeping our small towns beautiful is part of the Junk Goats' mission. When people look for junk removal Ashland, VA, we want them to know that the Junk Goats have their junk removal needs in mind. Historic Ashland, Virginia, is a beautiful place to live. Named for the historic estate of former Secretary of State Henry Clay and located in Hanover, Ashland has ballooned in size from the one-acre town it had been incorporated in 1858 to over seven square miles now in 2022! That is a lot of area for one picturesque town to cover and keep beautiful, and they are assisted in keeping the town of Ashland beautiful thanks to the mind boggling services of the Junk Goats!
Founded in the greater Richmond metro area in June of 2020, the Junk Goats are the go to junk removal Ashland VA service. Whether you are looking to get rid of a single item or a whole house full of junk, the Junk Goats have you covered with their mind boggling quality of service. Some services we offer to the town of Ashland, VA include:
Shed demolition and removal

Storage unit / garage / attic cleanouts

Donation services

Hot tub demolition and removal

Appliance removal

…and much more!
Getting The Goats Out to Ashland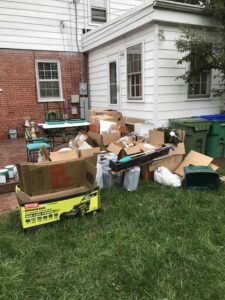 Our professional team here at Junk Goats is ready, able and willing to help you clear your clutter. We base our process and pricing on the amount of space your junk takes up in our big, bright blue Junk Goats Junk Removal Services truck, which holds up to 15 cubic yards worth of material. Since our pricing is based on the amount of total space your items take up in our truck, getting the Goats out to your house, apartment, storage unit, place of business or more is the first step in the junk removal Ashland VA journey. Once on site, we will give you a free, firm, and completely no obligation quote. It is as easy as one two three to help keep Ashland one of the most picturesque little towns in the US!
There are several ways to get the Goats out to your location, but the best two are to give us a direct phone call to our offices at (804) 494-7999 or to visit us online at www.junkgoatsrichmond.com where you can fill out our online booking and request for a quote forms!
Donation Services and More!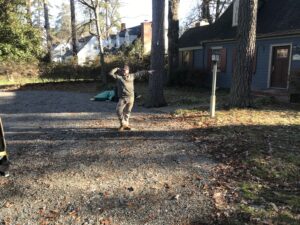 Not all junk is equal, to be fair. Some items have had a lifetime (or more!) of regular use, while others have been rarely utilized and are now being sent on their way to make room for something else. When you have an item that is not quite ready for its final destination at the local landfill or dump, give the Junk Goats a call! We not only haul away old junk but are more than happy to take items that need a new lease on life to a local donation center, be it Goodwill or the ARC. We will even scan in the donation receipt for you to use on your taxes next year – another part of how the Junk Goats provide the best in customer service for the greater Richmond metro area!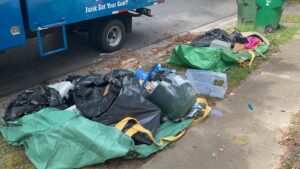 The Junk Goats are also more than happy to help out with donations to the Special Olympics as well! We have taken several lightly used items and given 100% of the proceeds to the Special Olympics as another way for us to give back to the community that has helped support us through the years. It helps cut down on the space needed at landfills, allows your items to have a second shot at life, and helps to enrich a charity all at the same time.
Demolitions? No Problem for the Goats!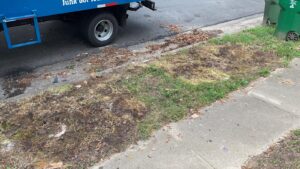 Got a funky old hot tub or a dilapidated shed that's leaning a bit more than you would like? Give the Junk Goats a call today and we will happily swing by to give you a quote for the demolition and removal of these items! When we undertake a demolition project, we try to treat it just like any other junk removal job, with safety and efficiency at the forefront of our minds. Our quotes for these jobs are based on the labor necessary to safely take apart your shed, hot tub, play set or other large item, as well as to ensure the area it was held in is cleaned after we finish. This means there are no loose fasteners waiting to be stepped on, and the space once occupied with your old junk is now ready for the next step! We are happy to give quotes for demolitions for hot tubs, sheds, children's play sets, and even above ground pools!
Don't Mess With the Rest – Get With the Best!
After having served the greater Richmond metro area since June of 2020, the Junk Goats have racked up over three hundred glowing reviews from previous clients and customers. While anyone can claim to offer mind boggling quality of service, communication and professionalism, we are more than happy to back it up with our customer testimonials. Some of the Goats clients were so pleased with how we are able to quickly, responsibly and how easily we were able to clear their clutter that they even recorded a video review for us! It is hard to find that level of dedication for most jobs in the service field, and the Junk Goats would not be where they are today without the backing of our wonderful clients and customers.
Give the Goats A Call Today!
Ashland has been a beautiful small town for well over a century, and we here at the Junk Goats aim to help keep it that way! If you have a pile of clutter that needs to go, give our friendly office staff a call right now at (804) 494-7999. We can not wait to continue helping to keep the town of Ashland beautiful for many more years to come!