​Hot Tub Removal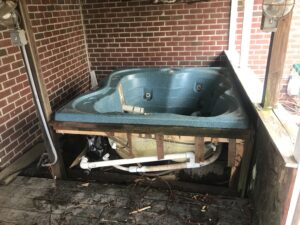 "Want to go soak in the hot tub?" There are very few questions after a long and arduous day of work that are so rarely met with such an enthusiastic "yes!" as this. Hot tubs are a great way to kick back, relax, and enjoy a bit of 'you' time while taking in the hot water and bubbles. While they are mostly kept outdoors on a deck, due to the heated water, they can be enjoyed year round. They can be great social pieces too – did you know that some hot tubs can even sit up to ten adults comfortably in them! All in all, the hot tub can be a great addition to your house and a conversation piece for years to come. Eventually, however, those years will begin to show in your model, and soon enough, it comes time for replacement. How do you get an item of that size and weight safely out of the way? By calling the very best, the Junk Goats Junk Removal Services in the greater Richmond metro area, today!
Most items we are called to remove can be efficiently and quickly removed for our clients, but a hot tub presents a specific challenge. When we are asked to remove a hot tub, we will generally schedule a time to come out and observe the appliance. Our Junk Goats Junk Removal Service Richmond team on site will be able to give you a firm, free, and no obligation estimate for the demolition and removal of your hot tub. Smaller (generally two people maximum) tubs may not require a second date to be scheduled; if this is the case with your spa, we will go ahead and remove it for you right then and there provided you have accepted our estimate. More often than not, however, we will work with the client to schedule a date and time in the future to 'demolish' the hot tub into workably movable pieces. We will also take this opportunity to note the specifics of your hot tub. This ensures that we have all the right tools for the job upon our return for demolition. Preparation is the key to success, and we strive to do the job right the first time, every time.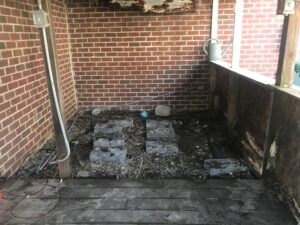 Before we begin our demolition, we ask that you ensure that the hot tub has been drained and disconnected from any power or water sources. This ensures the maximum safety of everyone involved with the hot tub removal, from our Junk Goats Junk Removal Service Richmond  to yourself. Some of the tools we utilize in the demolition of your outdoor spa include sledgehammers, Sawzall, drills and more. Special care is taken to ensure that no damage occurs to your property while we take the hot tub apart, and our Goats go the extra mile after removal to clean the area your piece had been occupying. Our customer service would not be considered mind boggling if we did not take every opportunity to make it so!
It is not just hot tubs that we will be more than happy to remove for you. Got any hot tub accessories? Extra backboards for your seats, attached showers, floating lights and bluetooth speakers, as well as hot tub frames are all part and parcel of the hot tub experience, and it would be our pleasure to load them up into our truck for you at Junk Goats. No matter the size or what it was previously used for, if it was part of the hot tub and you want it gone, we will remove it – no fuss, no muss, all professionalism from the Junk Goats Junk Removal Service Richmond team!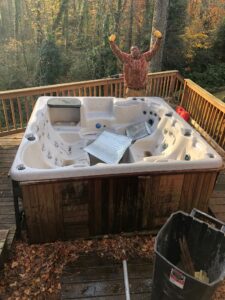 Any pieces of the hot tub that are too large for one person to carry will always be team lifted by our safety oriented Junk Goats crew. Extra steps are taken to prevent loose wires and cables from catching on ourselves or your property, or worse yet – being tripped upon. Safety is always priority number one when tackling larger jobs such as hot tub demolitions. We will note that we cannot take the chemicals necessary to clean and maintain hot tubs, as they can be hazardous and cannot be reasonably and safely poured down a storm drain. Once your hot tub has been reconfigured from one large model to several easily movable pieces, our Junk Goats Junk Removal Service Richmond squad will begin loading them into our truck. We utilize a canopy over our truck bed to ensure the security of all items as we take them to their place of final destination. After every piece has been removed and placed securely in our Junk Goats truck, our team takes the time to go back over the space where your junk once sat. We will search for any extra pieces that might not have made it out during our trips to and from the truck, as well as any small metal connectors such as screws or nails. Once our 'sweep up' has been completed, our Junk Goats Junk Removal experts take the time to then clean the area where your junk formerly remained.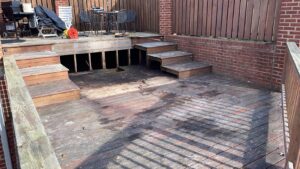 So whether it is time to replace your hot tub, upgrade to an even bigger model, or say goodbye to the well loved hot tub of yore, the Junk Goats Junk Removal Service Richmond team serving the greater Richmond metro area would love to work with you to help get it done! No matter the size of your hot tub, nor the amount of accessories that go along with it, the Junk Goats Junk Removal squad has the ability, knowledge, and expertise to safely dismantle it and haul it away for you. Our courteous and friendly staff can help schedule you a free, firm, and no obligation estimate appointment to finally get that hot tub off of your deck. What are you waiting for? You can start the process by calling our friendly and professional office staff at (804) 494-7999, or you can go online and fill out our estimate appointment form on www.junkgoatsrichmond.com. We look forward to hearing from you – give Junk Goats Junk Removal Service Richmond a call today!