Playset Removal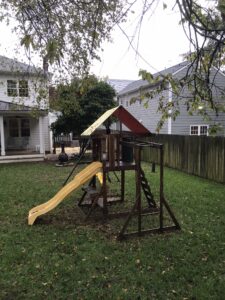 It is hard not to have an affinity for the outdoors growing up in the beautiful Commonwealth of Virginia. From our picturesque Appalachian mountains to the First Landing shore, and everything in between, we have an unmatched amount of natural beauty surrounding us. Playing outside on swing sets, monkey bars, trampolines and more only serves to enhance the fun to be found in the open environments of outdoors, but time and usage eventually degrade even the heartiest of this equipment. Where once the playset was a vibrant, much loved part of your yard, now sits an outdated, unused, and possibly even dilapidated structure that is desperately begging for premoval. Fortunately, that's exactly our wheelhouse at Junk Goats Junk Goats Junk Removal Service Richmond, and it would be our absolute pleasure to help get your playground junk hauled away for you!
The courteous and helpful staff at Junk Goats Junk Removal Service Richmond has the experience and know how to deal with any kind of playground equipment you have that needs removal. We do not mind if you have a well-used set of items in your yard, or if the junk is located in a common area that needs a few items removed so newer ones can be brought in. The experts at Junk Goats Junk Removal Services are here to help put your mind at ease with our mind boggling professionalism, service, and expertise.
Here are some examples of things the Junk Goats Junk Removal Service Richmond  team are more than happy to haul away for you:
Large Wooden or Plastic Playsets: This category is a catch-all for any large piece of playground equipment or set of several pieces together. Whether it's too small for your loved ones or just doesn't get much use anymore, the Junk Goats Junk Removal crew is ready and willing to help haul it away for you! Larger and multi-piece structures (those sets with a treehouse, slide, swings, monkey bars, and more) could take a fair amount of time to disassemble safely. If necessary, we will gladly schedule an elongated removal period for you so that we can return with the correct tools to complete the job to your satisfaction!
Monkey Bars / Jungle Gyms / Playground Equipment: Just so we're all clear, monkey bars are the horizontal ladder to swing across on, while the jungle gym is generally a geometrically-shaped dome made of metal rods to climb on (the more you know!). Regardless of how it was used, it's all junk to us! Items of this size can usually, though not always, be reasonably taken apart to make hauling it away even easier. We will even take away any unwanted playground equipment (sandboxes, carousel spinners, picnic tables and more) – just let us know what you need gone, and the Junk Goats Junk Removal team will have it done for you!
Treehouse with Slides / Climbing Walls: These structures are usually taller than the average adult, and routinely feature an elevated 'treehouse' area that is accessible via a ladder or climbing wall, with a slide opposite. Depending on the size of the structure, the Junk Goats squad may work with our client to schedule an extended window to take the edifice apart safely.
Trampolines: Was there ever a piece of outdoor yard equipment as exhilarating as the trampoline? Bouncing high into the air, higher still with a well timed jump from a friend, is how many a summer day is spent. Trampolines are a joy when they're in use, but once they have gone past their prime, they can quickly deteriorate into an eyesore. That's where the capable and handy Junk Goats Junk Removal workers come in! One call to us and that rusting frame and hole-y fabric will be taken down and loaded up in our Junk Goats Junk Removal Service Richmond

 

truck – no fuss, no muss!
Inflatable / Hard Molded Children's Pools: Summer heat in our great state can be overwhelming and unbearable sometimes, which is why having a small, mobile pool for children and adults to cool off in is a great idea. However, due to the unique combination of sun and water damage, these items can quickly go from the place to be in the summer to an unseemly eyesore in the fall and winter months. Hard molded children's pools, if upended, also have the very real chance to be harboring vermin like rats and snakes. In situations like these, don't fret about why, when, or how – let the qualified experts at Junk Goats Junk Removal Services help make your yard yours again!
Zip Line Equipment: These items are usually installed onto two trees in order to create tension for the pulley system a zip line generally consists of. The pulley itself could hold just a simple rope or a full on seat to ride the length of the zip line, and each contact point must be well anchored in order to provide the standard zip line experience. That's… a lot of stuff! Fortunately for our clients, it doesn't matter how much stuff it is – just how quickly you want us to remove it! We take care to uninstall any anchor points for the zip line system while keeping track of the line tension, so as to make sure there is no 'snapping' that could damage us or your property. Give us a call today and we'll 'zip' over for your firm, free, and no obligation quote from the Junk Goats!
Canoes / Kayaks / John Boats: Who said you had to stay on land to have fun outdoors? With our great Chesapeake Bay and multitude of rivers, lakes, and streams, we are hard pressed to want for any aquatic activity here in Virginia. However, much like the pools listed above, the unique combination of sunlight and water (especially on the coast with salt water) can quickly take your maritime items from treasure to trash. If it's not seaworthy, it is definitely Junk Goats worthy!
Outdoor fun is a way of life for Virginians. We here at Junk Goats Junk Removal Service Richmond strive to keep the outside a clean, fun, and active place for all of us in the Commonwealth. If there's any equipment that you are not sure how to deal with, you can rest assured that our team is ready and able to take it off your hands. Schedule your free, firm, and no obligation quote for your junk with us by calling our office at (804) 494-7999 or visiting us on the web at www.junkgoatsrichmond.com.