Richmond VA Junk Removal
Looking for the best junk removal Richmond, VA and the surrounding metro areas has to offer? You have come to the right place! Here at Junk Goats Junk Removal, we have been helping the wonderful residents of the greater Richmond metro area with their junk removal needs since June of 2020. We are continually striving to provide the very best in mind boggling customer service, communication, and professionalism with every client and each job we complete. No matter what kind of junk removal Richmond, VA you're looking for, the Junk Goats are more than happy to help clear that clutter!
When we speak about junk removal in Richmond, VA, what exactly do we mean? Junk is junk, right? Well, yes and no. Junk can comprise a good amount of items, from regular old trash to a full blown living room set that has run its course. Sometimes your junk is an old, funky structure on your property – a shed that has seen better days, or a hot tub that is only used to collect rainwater. Other times the entire house is jam packed full of junk from a hoarding situation. Regardless of what has happened, the Junk Goats are here to help with our mind boggling professionalism, communication, and quality of service. 
Services the Junk Goats offer include:
Donation Pick Up Richmond, VA – do you have unwanted items that are too good to trash? No problem! Junk Goats donates any reusable items and forwards the receipt right back to you! We'll even take your items to a donation center of your choosing if you have a preference
Mattress removal Richmond, VA – did you know most dumps have an extra mattress disposal fee on top of their normal rates? Save time and money with the Junk Goats!

Furniture removal Richmond, VA – we are more than happy to help donate lightly used furniture items, and will even scan the receipt back to you!

Hoarding cleanup Richmond, VA – the Junk Goats have helped restore several houses to their original state after a hoarding situation, and are more than happy to help you as well!
Shed removal Richmond, VA – when even the word 'lean to' does not do justice to the dilapidation, give the Junk Goats a call for an efficient and safe shed demo!
Trash removal Richmond, VA – whether it's just a couple of bags the regular service didn't take or a full blown dumpster area cleanout, the Junk Goats have you covered!
Hot tub removal Richmond, VA – having a working outdoor spa is great; a non-working one not so much. Give the Goats a ring and we will have that thing out of there in a jif!
Refrigerator removal Richmond, VA – much like mattresses, fridges and other appliances usually carry an extra disposal fee along with the standard landfill charge, so let the Goats handle it for you!
Yard debris removal Richmond, VA – not only content with taking household junk, the Junk Goats are more than happy to pack up and haul away yard debris to keep your outdoor areas beautiful!
Read Our Reviews and See Our Testimonials!
With over three hundred glowing five star reviews from former clients and customers, the Junk Goats have a knack for clearing your clutter in a friendly, efficient, and safe manner. We even have video testimonials from clients and customers who want to pass the good word of the Junk Goats along! The question you might be asking yourself now is how you can get the best junk removal Richmond, VA to work for you. Your answer is much easier than you would think! To get in contact with us, you are more than welcome to fill out our online booking form or our request for a quote form. Or you can give our offices a call today at (804) 494-7999. Our friendly and engaging Junk Goats office staff are always happy to speak with you about any and all of your junk removal needs.
The Junk Goats Difference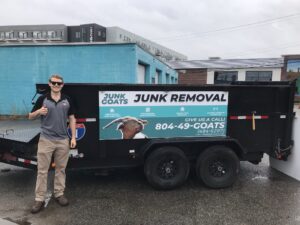 Part of how we provide the very best service to all of our clients is our commitment to going above and beyond in every aspect of our jobs. When you contact the Junk Goats, you will be greeted with a Richmond native who will actively listen to your trash removal Richmond VA needs, and will take the time to find the best date and time on our schedule for the Goats to deliver you your free, firm, and no obligation quote. Once you have booked with the Junk Goats, you will not only get a reminder text message but an email with your appointment details within. The day before your service with the Junk Goats, you will get another reminder about your junk removal Richmond VA job as well!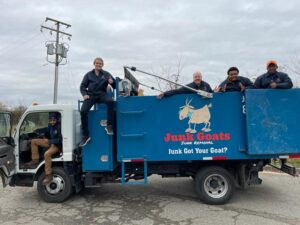 Our Goats are highly professional, and are always uniformed, clean cut, and eager to get started on your furniture removal Richmond VA job. While your mind will already be boggled by the professionalism of our office staff, our on site crew will put you at ease while they make your job, be it something as small as a single item like a mattress or a fridge, or as large as a shed removal Richmond VA task, as quick, safe and efficient as possible. 
We Make Junk Removal Easy
After we have taken a look at every item you want to have hauled away, we will give you a free, firm, and no obligation quote. Our quote is based on the total amount of space your items will take up on our truck, giving you a specific to your needs price instead of a general figure. With your approval, the Goats get to work right then and there loading up all of your junk into our big, bright blue Junk Goats Junk Removal truck. For items like mattress removal Richmond VA, it is as easy as hauling it out of your property and onto our truck. Some things, like shed removal Richmond VA will take a little more time to complete – so here is how we go about making sure it is done to your satisfaction!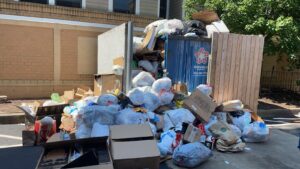 For large ticket items like shed removals or hoarding cleanup Richmond VA, the Junk Goats take a slightly different approach. Getting you on the schedule to receive a quote is the same but once our Goats arrive on site, they will take a look at everything that needs to be cleared (like in a hoarding clean out) or that would need to be done for a safe and efficient demolition. We utilize several tools in our demolition services, from drills to Sawzalls as well as sledges and other items. After we have determined the best course of action to help clear your clutter, be it filling your house or a standing structure, we will send you a pdf copy of our estimate. Our estimates are good for an entire calendar year, so if you are not quite ready to get rid of your shed, hot tub or more, you are more than welcome to hold onto it and move forward when things have settled down a bit.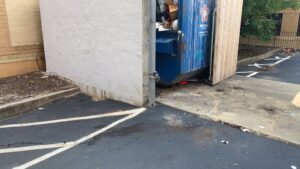 When the Junk Goats are at work, you will be amazed at their efficiency, professionalism, and dedication to safety throughout the entire process. Any items that cannot be reasonably lifted by one person will always be team carried in order to prevent damage to our workers and your property. Here are some other steps we take to ensure your junk removal Richmond VA job goes as well as it can!
Any loose wires or cables are safely tied up to prevent any tripping

Swinging doors and gates are kept firmly shut to prevent them swinging open during removal – something like this could very easily cause damage to your walls, stairwell, fascia and siding!

Large items will be disassembled in order to help the removal process along. These items can include bed frames, couches with removable backings, and more

Items that have very little 'breathing room' around them when being moved through your property will be wrapped in a moving blanket to ensure no damage occurs in case it happens to touch the walls

For demolition and disassembly projects, we do a second sweep to ensure no metal fasteners or pieces of debris are left behind
Once we have loaded all of your junk items onto our big, bright blue Junk Goats Junk Removal services truck, we will return to the area or areas where your junk was previously stored. That is right – not only will we help load up and carry away your clutter and mess, but we take the time to clean up the areas where it was last located so you are able to transition that space onto the next phase. 
Our Commitment to the Environment at Junk Goats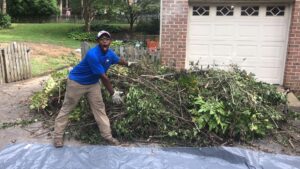 What happens to the items that we take away on our big blue Junk Goats Junk Removal truck? We make every effort to keep your items out of the landfill by donating or recycling all we can. Many items are in too good of a condition to throw away – you just no longer have the space, time or energy for them! If you prefer a particular donation center for your items, all you have to do is let your professional Junk Goats crew know and we will do our best to fulfill your request. After donating your items, we will always send you a copy of the donation receipt we receive so you can use it on your taxes for the next year. Donating and Recycling your unwanted items helps reduce the amount of space taken up in our landfills, gives them new life and gives someone else the chance to utilize the items to their fullest!
The Junk Goats will Come to You!
The Junk Goats Junk Removal team provides their mind boggling services to the entire greater Richmond metropolitan area, and are always more than happy to bring their big, bright blue Junk Goats truck to deliver you our patented firm, free and no obligation quote for junk removal. Aside from the city of Richmond itself, here are some of the surrounding areas that we are more than happy to service:
Hallsboro

Woodlake

Matoaca

Bon Air

Colonial Heights / Ettrick
Short Pump

Tuckahoe

Glen Allen

Dumbarton

East Highland Park

Highland Springs

Varina
Manakin-Sabot

Maidens

Dorset
We maintain a flexible 30 minute / mile border to ensure that we are able to help every citizen of the greater Richmond metro area and surrounding counties with any and all of their junk removal needs. While the list above helps give our customers an idea of the areas we happily service, it is not an exhaustive nor a comprehensive one. If you do not see your location listed above, you are always welcome to give our Richmond based offices a call at (804) 494-7999. Our friendly office staff will work with you to determine whether or not we have expanded to cover your area – and if not, we are more than happy to assist in finding a service provider who can help to clear the clutter in the meantime. 
Give us a Call Today!
Whether you are looking to get rid of a single item like an old and funky appliance, a dilapidated shed or playset, or are in need of a full blown hoarding cleanout, give the best junk removal service in Richmond VA a call! We here at the Junk Goats Junk Removal office can not wait to hear from you and help clear your clutter! Come rain or shine, the Junk Goats crew is always smiling, eager and available to help haul away any and all junk you might need. Give us a call now at (804) 494-7999 or fill out our online booking form to get the ball rolling on your very own junk removal service in Richmond VA!.