Junk Goats Junk Removal removes just about anything! Here are some items we take: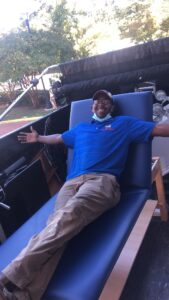 ​Some of the items we take include furniture! Getting rid of unwanted furniture can be a daunting task for any homeowner or renter. Furniture pieces are typically large, heavy, and difficult to move and transport. That's where the Junk Goats team can help. We provide professional furniture removal and ensure your old furniture ends up in the right place. If your unwanted furniture is still in good usable condition, we ensure that the pieces end up at a charitable donation center. By donating your lightly used furniture, we are able to keep the items out of our local landfills while at the same time providing a great service to the local Richmond community. Have a favorite charity or donation center? Just let us know and we will deliver your lightly used furniture to the center of your choice at no extra charge. We will even provide you with the donation receipt so you can write off the donation as a tax deduction.
Have furniture you need removed the same day? Call today and ask about our same day service!
Junk Goats provides Richmond VA with furniture removal & donation. Examples of furniture we take include;
Couches
Sofas
Sofa Beds
Dressers
Entertainment Centers
Armoires
Mattresses & Box Springs
Desks
Cubicles
Chairs
Boxes
Tables
Bookcases
TV Disposal
TV disposal in Richmond VA and surrounding counties can seem like a daunting task. Old TVs are incredibly bulky, difficult to carry, and can be tricky finding the right place to dispose of or recycle. Junk Goats Junk Removal makes TV removal in Richmond VA easy and stress free. Simply give us a call or book your service online to get started.
Whether you are upgrading to the newest flat screen model, or have collected a few old TVs over the years you no longer want cluttering your space, Junk Goats is RVA's go to source for TV removal.
Yard Waste Removal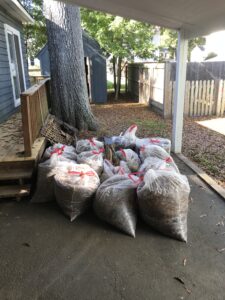 Yard waste can accumulate quickly in Central Virginia. While the abundance of beautiful trees and foliage in our region make for spectacular scenery and wonderful living spaces, they also generate a lot of debris. Maintaining your property can be a challenge, especially when you have collected piles of yard debris and brush. Getting all that yard debris off your property can be a tedious task involving many trips to your local dump and hours of valuable time.
Spend your time doing what you love, and leave your yard debris and brush disposal to the professionals at Junk Goats. We can clear out that pile of yard debris in no time leaving your property looking clean and well maintained. If you have yard debris you need removed, give our friendly junk removal professionals at Junk Goats a call today!
Getting a recently foreclosed home ready for sale can seem like a daunting task. Whether you are the owner or real estate agent, we understand the need to quickly and carefully remove all items left from the previous tenants in order to ready the house for the market. Junk Goats understands these needs and provides fast and effective removal of all items in foreclosed properties. We remove all items carefully to ensure no damage to the property occurs, and transport all the items to the appropriate facilities.
All appliances need to be replaced eventually. Getting shiny new appliances is an exciting time. Figuring out what to do with the old appliances can be tricky. Getting your old appliances out of your home or business and to the proper disposal facility can be difficult for many homeowners, renters or business owners. Most appliances are heavy, bulky and difficult to move. Getting that appliance removed doesn't have to be difficult or stressful. The friendly Junk Goats team is on your team when it comes to removing your old appliances.
Whether you have an old washer and dryer, dishwasher, hot water heater, microwave oven or kitchen oven and stove, the Junk Goats team can quickly and easily get these bulky items out of there in no time. Simply fill out our form, or give us a call to start our super easy, stress free appliance removal process. We look forward to assisting you!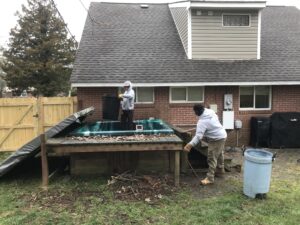 Other items we take include hot tubs and spas. ​Hot Tubs and home spas are great for relaxing and enjoying yourself. Over time, natural weathering and aging can make your hot tub more of a liability than a luxury. If your hot tub is causing you more headaches than relaxation, then it's probably time to consider getting that old spa removed.
When it comes to hot tub removal, DIY removal can be challenging for most homeowners. Hot tubs are large and can weigh well over 1000 lb making them quite difficult to move, not to mention dispose of properly.
Junk Goats Junk Removal has a well tuned system to quickly, safely, and affordably remove your old hot tub or spa. Don't risk injury or property damage by attempting to remove your hot tub yourself, trust the professionals at Junk Goats. If you have a hot tub that you need gone, fill out our form or give us a call today!
E-Waste Disposal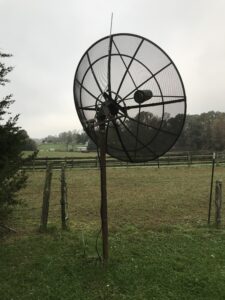 E-Waste is becoming more and more prevalent in our homes and offices in todays age. Examples of E-Waste include any old electronics that are no longer needed. These include computers and computer monitors, televisions, laptop computers, phones, copy & fax machines, and more. Technology is evolving at incredible rates that upgrading regularly to the newest tech is a must. These rapid innovations leave behind oodles of e-waste in most homes and businesses.
Disposing of old electronics doesn't have to be difficult or stressful. Junk Goats Junk Removal will happily remove any and all e-waste that you or your business no longer want cluttering up your valuable space. We ensure that your old electronics arrive at the proper facilities.
Trash Removal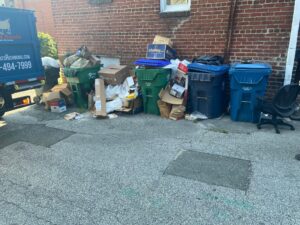 Did your regularly scheduled trash service leave your bulky or excess trash sitting there at the curb? Perhaps you have accumulated heaps of trash that you need gone. Allow the Junk Goats team to remove your bulk trash and eliminate that curbside eyesore. Whatever type of trash you need gone, Junk Goats can quickly remove all that garbage. Don't leave that eyesore to just sit there, take action and call the friendly Junk Goats team now to solve your trash troubles.
Mattress Disposal
Getting a brand new mattress is always an exciting time. After all, we spend almost a quarter of our lives asleep and using a quality mattress is essential to our health and sleep quality. What do you do with your old mattress? Most donation facilities won't accept used mattresses, and many landfills are unable to accept them as well. Disposing of your old mattress can be difficult not only because of the bulk and weight, but also finding the appropriate facility to dispose of and recycle your mattress.
Junk Goats Junk Removal is Richmond's go to source for mattress removal. Our professional team of mattress removers will be in and out of your home in a flash. Leave the disposal of any old mattresses to the Junk Goats, and we will leave you and your home decluttered and ready for the new mattress you deserve.
Refrigerator Disposal
Refrigerators are another essential appliance for any homeowner or renter. Disposing of old refrigerators and freezers can be quite the feat. If you're wondering where to dispose of refrigerators or freezers in Richmond VA, then you're like many Virginians. Due to the chemicals contained in these appliances, disposal can be tricky. Not to mention fridges and freezers can be super heavy and difficult to transport. Thankfully, the Junk Goats team provides expert removal of refrigerator and freezers, and knows the right facilities to dispose of them. If you are in need of fridge removal in Richmond then you are in the right place. Our friendly Junk Goats team would love to assist you in your fridge removal. Simply give us a call or book online!
Construction Waste Removal
Construction and renovation produce a lot of debris and waste and leave behind quite a mess – but do not worry, they are another one of the many items we take. If you've had or plan on having construction work done at your property, you can count on the Junk Goats to clean up your site and leave it looking clean and debris free. We promise to exceed your expectations with our construction debris removal. To get your site cleaned up, give us a call today!
Dumpster Bag Removal
Have a dumpster bag you need removed? Many times, the big dumpster bag companies refuse to pick up their own dumpster bags that are overfilled or placed in awkward to reach places. Don't worry, Junk Goats can help get that bag removed for you in no time. Forget the frustration, and give us a call to schedule your dumpster bag pick up.
Shed Removal & Demolition
Do you have an old, ugly or dilapidated shed on your property you'd like gone? If you're like many Virginians looking for reliable and convenient shed removal in Richmond, then you are in the right place. Whether you're making room for a new shed or simply want the old one gone, the Junk Goats team of shed removing professionals will carefully demolish and remove that shed. We will leave the old shed site spotlessly clean and debris free, as part of the items we take includes all fasteners and debris left over. Give us a call today or book online to get your old shed removed.