Attic Cleanout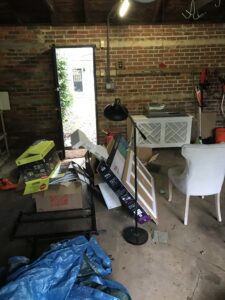 Attic cleanouts. The words themselves brings to mind a mental picture of exposed wood, wires, and insulation, as well as a multitude of boxes and items kept 'out of the way' in storage. Some of these things are brought out seasonally and then put right back up in storage after their single use for the year. Others are treasured keepsakes, possible hand me downs for the future, old exercise equipment – anything and everything you can possibly think of has more than likely been stored in an attic or upper level crawl space before! For a good amount of people, however, using the attic for storage becomes simply an 'out of sight, out of mind' process that will eventually result in the homeowner taking stock of their space and asking "Where did all this junk come from? How can I get my space back?" With the courteous and dependable Junk Goats Junk Removal service crew on your side, you can rest assured that your attic or upper level crawl space area will be professionally and efficiently cleaned of the junk that inhabits it.
When working with our clients for junk removal service in Richmond to facilitate attic cleanouts, the first step in our process is to schedule our free, firm, and no obligation quote. There is an available web form on our website or you can call our friendly office staff at (804) 494-7999. We will work with you to schedule a window for our Junk Goats Junk Removal team to come out and give you the firm, free, no obligation quote. Depending on the size of your attic and the amount of items you need removed, our Junk Goats squad will present our client with one of two options upon the approval of the estimate. Most attic clean-outs are large and complex jobs that may take several trucks to completely clear. If this is the case, our on site Junk Goats crew will work with you to find a date and time that works for both parties to be able to thoroughly remove all your junk in one go. On the other hand, if your attic or crawl space is relatively small or has just a few items to be removed, our reliable Junk Goats team will have it loaded up and hauled away for you that very day.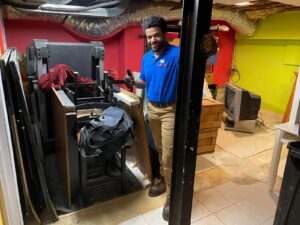 Our professional and affable staff in the junk removal service Richmond believes that being invited into your home is a privilege – one that we do not take lightly at all. When removing items from your attic or upper level crawlspace, every precaution is taken to prevent any damage to your property or our employees. Attic spaces are generally left unfinished, with exposed wires and pink fiberglass insulation readily visible to the naked eye, and more often than not the flooring is made of pressboard and plywood. When calculating the firm, free, and no obligation estimate, we also like to take note of the space itself and any possible hazards that could be in the way of removing your junk. During the removal process, our knowledgeable staff will take every effort to ensure the safety of your property as well as themselves. Any loose wires or cables attached to your items will be safely tied up and moved out of the way. As attic removal consists of moving items down from the attic to the ground floor, any tripping hazard is removed before we begin carrying the load. Anything that is too heavy for one person to reasonably carry will always be team lifted by our Goats. While we pride ourselves on our ability to expertly remove any junk from your house, there are a few items that we are unfortunately unable to remove for you. These include oil cans and used oil pans, paints (spray paints and liquid cans), and most any liquid that cannot be safely poured down a storm drain.
Occasionally in larger attic spaces that are full to the brim, it is possible to come across more than just the items you need removed. When removing the items from your attic or upper level crawl space, there is always a chance to uncover the nest of some extra tenants you may or may not have known were there! Our crew takes care when removing your junk to check for any surprises such as these, and will take the time and effort to sweep up any areas that had been used for nesting. Much like the hazardous materials listed above, we are unable to remove any living creature that may be found in your attic or upper level crawl space, but will gladly direct you to the relevant Animal Control office to help with the situation.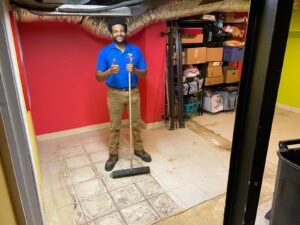 Once we have everything successfully removed from your attic or upper level crawl space, our Junk Goats junk removal service Richmond team goes the extra mile to ensure customer satisfaction. The area that your junk was previously occupying will be cleaned so you can immediately begin working with it once the Junk Goats haul your unwanted items away. We do offer donation services as well for any items that can be considered 'lightly used.' The Junk Goats junk removal crew is more than willing to take the items to a local donation center – and if there is a specific one you have in mind, let us know and we will gladly take it there! After we drop off your items, we will scan and send you the donation receipt for your records as well as for tax purposes.
So whether your upper level crawl space has a few items that need to be removed, or your attic is filled to the brim and needs to be completely cleared out, the professional and helpful team at Junk Goats Junk Removal service Richmond is ready, willing and able to take the weight off your shoulders and out of your home! You can schedule your firm, free and no obligation quote by giving our office a call at (804) 494-7999, or you can fill out our quote request form online at www.junkgoatsrichmond.com. We will be more than happy to haul your junk away for you!