Who We Are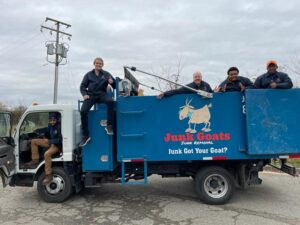 Hi, my name is Matthew Nelligan. I founded Junk Goats Junk Removal during the summer of 2020. Junk Goats has taken off since our start back in early June, and we have quickly become the top junk removal choice for homeowners and businesses in and around Richmond. What sets us apart, you may ask? Simply put, it is our approach to serving our junk removal clients. We service our customers as if they are our own family or neighbors, and provide them with the utmost communication and friendly service. Our clients can expect to be kept in the loop throughout our entire, stress-free process. From our clear explanations of our processes, up-front pricing, and a high level of professional service, our team of dedicated junk removal professionals ensures a high quality experience for every client, every time. Going the extra mile is not just a saying for Junk Goats. We make it our mission to provide service beyond your expectations, for every job.
Where We Are
Junk Goats Junk Removal is based out of Richmond, Virginia, and serves the greater Richmond metro area and all surrounding counties. We are continually developing new service areas as we expand across Virginia. As a Richmond native, there's nothing more satisfying than being able to serve my local community, and provide great value to our neighbors and friends. Junk Goats dedicates itself to providing safe and responsible junk removal services in order to do our part in keeping a clean and green central Virginia. We accomplish this by giving back to our community and donating lightly used furniture and other items to local charities, and by responsibly disposing or recycling the rest. You can rest assured that your items will end up in the correct donation center or disposal facility when you use Junk Goats for your junk removal needs.
What We Do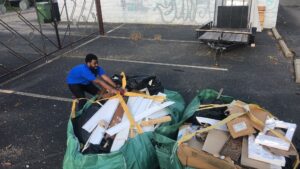 Junk Goats Junk Removal provides residential and commercial junk removal services to all of Central Virginia, and are committed to providing the absolute best service for all of our clients. Junk Goats ensures customer satisfaction, stellar communication during the whole process, up front prices, and a commitment providing our clients with the highest level of service and professionalism. This means that our clients can expect to be kept in the loop throughout the whole junk removal process and should experience no surprises.
Junk Goats does everything from single item pick ups to entire house clean outs. Whatever size junk removal job you have, the Junk Goats can help. Junk Goats is covered end to end with the proper insurance in order to protect our clients and ourselves in the event anything goes wrong. This allows total peace of mind for our clients when hiring Junk Goats.
Junk Goats Junk Removal provides both residential and commercial junk removal. We understand that our junk removal clients desire a simple, stress-free, and affordable junk removal experience. Junk Goats residential junk removal in Richmond VA is the area's number one choice for junk removal. The professional and friendly junk removal specialists are trained to provide our clients with exceptional customer service and value. Our team is uniformed, clean cut and professional to ensure you get the service you deserve every time. Included in our residential junk removal services are single item pick ups, single room clean outs, shed clean outs, attic clean outs, and much more.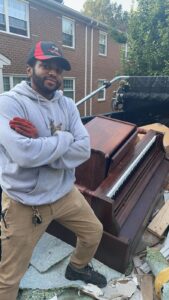 We understand the natural tendency for items to accumulate in homes over time. Eventually, the "stuff" becomes too much and a junk purge is needed in order to regain your space and tidiness. Junk Goats knows that the process of cleaning out spaces of personal items can be difficult for many homeowners. Our team of professionals does every job with compassion, and we recognize that it can take a lot of strength to get rid of your clutter. While it can be difficult letting go of personal items, by the end of the job, our clients are almost always smiling ear to ear with relief that their space is free from clutter and headaches.
Your home is your sanctuary, and keeping it free from obnoxious clutter and excess stuff is key to thriving in your home. If you feel that you need to reclaim your home from clutter, the Junk Goats are here for you.
Many of our clients simply have a piece of furniture they are replacing or getting rid of. Whether you have a new mattress being delivered, or are getting a brand new sofa, getting rid of the old items can be easier said than done. Junk Goats can help get your old furniture out of your home or business in a flash so you can have room for your new pieces. Don't stress about renting a truck, and spending the better part of a day dealing with disposal or donation yourself. With one call, Junk Goats will be there and get your old furniture out of your space and to the donation center of your choice in no time.
                           Service Areas
Junk Goats services roughly a 30 mile radius around Richmond, VA. If you are outside of this area, we do make exceptions so don't hesitate to reach out and ask! Below are some examples of our main service areas:
Why Use Junk Goats?
Junk Goats is committed to providing the best service possible to our wonderful clients.
Book your Junk Removal service today! Fill out our online form, or call our friendly junk removal professionals at (804) 494-7999 today to get scheduled.