Furniture Removal & Donation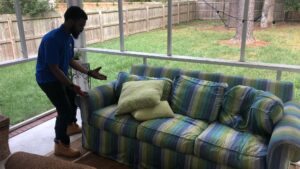 ​Having to get rid of old or unwanted furniture can be a long and tiring process for even the most experienced homeowner or renter. Items of furniture are usually big  and heavy which makes it even more difficult to move and transport to different places. The Junk Goats Junk Removal Services of Richmond team is here to help remove any kind of furniture you can think of! We provide the best and most professional furniture removal and ensure your old furniture will be in good hands. We will even donate your lightly-used furniture! If your unwanted furniture is still in good usable condition, we ensure that the items end up at a charitable donation center. By donating your lightly used furniture, we are able to keep the items out of our local landfills while at the same time providing a great service to the local Richmond community. Have a certain charity or donation center in mind? Just let us know and we will deliver your lightly used furniture to the charity or donation center of your choice at no extra charge. We will even provide you with the donation receipt so you can write off the donation as a tax deduction.
Have furniture you need removed the same day? Call today and ask about our same day service!
Junk Goats junk removal service Richmond provides Richmond, VA with furniture removal & donation. Examples of furniture we take include;
​Couches – Couches can be a struggle to move and navigate through and out of a house or apartment. In a lot of cases, the legs and pillows must be taken off in order to fit the couch through the door which can be a daunting task for someone with no other help. The Junk Goats are here to help you with any sized couch you are wishing to remove.
Sofas – Sofas are basically bigger sized couches. These sofas can take up a lot of space and be really awkward to navigate through houses. The Junk Goats will safely pick up the sofa ensuring that we don't hit any walls or break or damage anything.
Sofa Beds – Sofa Beds are usually rather heavy and very awkward to carry and navigate through tight spaces. The springs and tension in the bed causes the bed to, a lot of the time, fall out of the frame which can cause a lot of damage to property if in the wrong place at the wrong time. Our professional Junk Goats team will tie the barred bed frame down to make sure that that doesn't happen.
Dressers – Dressers are often very easy to navigate through a house as they are typically either square or rectangular. However, a lot of dressers are very heavy and too heavy for one person to move without taking a lot of time. The Junk Goats will remove your dresser with a quickness.
Entertainment Centers – Entertainment Centers are, most of the time, big and bulky. If you are someone who just bought a new television and it doesn't fit in your old entertainment center, what's the point of keeping it anymore? You'll either sell it online or give it to a relative – but if not, it will most likely end up in your attic or basement where you keep everything else you dont need. The Junk Goats will remove your entertainment center and donate it or take it to the local landfill.
Armoires – Armoires, or wardrobes, are big, bulky, and take up a lot of space. Trying to move something like this can be a difficult task for a lot of people. The Junk Goats will remove your armoire or wardrobe with the utmost care to ensure there is no damage to the property or anything else.
Mattresses & Box Springs – Mattresses and Box Springs come in a lot of different sizes and in some cases shapes too. Box Springs are usually light and easy to carry and maneuver throughout a house or apartment. Mattresses on the other hand are often very heavy and awkward as they dont have as much structure to the frame of the mattress as a box spring does. This can make them very difficult to carry and even move by yourself. The Junk Goats team will handle your mattress and remove it with ease and carefulness. We will even take the bed frame for you too. If we have to, we will take the bed frame apart in order to work smarter not harder and take small pieces at a time. This will make being careful a lot easier and make work quicker and more efficient for the Junk Goats.
Desks –

 

Desks can be big, small, light weight, heavy, tall, short, and many shapes and sizes. The Junk Goats will haul your unwanted desk away no matter what it looks like. We will take off or remove any parts and pieces necessary to fit your desk through any tight places and safely remove it from your property.
Cubicles – Cubicles are usually heavy, sturdy and take a while to take apart and remove if you're by yourself. The Junk Goats will remove those heavy cubicles in no time! With team effort and hardwork, the Junk Goats will turn that office full of cubicles into a room full of space.
Chairs – Chairs are usually the easiest of the furniture to remove as they are usually not as heavy and not nearly as large as most of the other items on this list. Some chairs even have wheels which makes moving and removing them a lot easier. The chairs that will give you a hard time are the electric reclining chairs. They are often heavy and very awkward. The Junk Goats will remove any kind of chair you can throw at us.
Boxes – Boxes can come in many different shapes and sizes. Often, people will pile up cardboard boxes and plastic storage bins in their attic or basement until there's no room left. The Junk Goats are here to remove those boxes and clear up some space for whatever you need.
Bookcases – Like to read books but don't want to keep them in that old dusty bookcase anymore? The Junk Goats will remove the entire bookcase for you and even remove the books if you'd like. We will start with removing the books from the bookcase and putting them in a safe place for you to decide what you do and don't want to keep. Then we will remove the bookcase from the property, taking it apart if need be.