Junk Removal Mechanicsville VA
The Best Way to Keep Mechanicsville Clean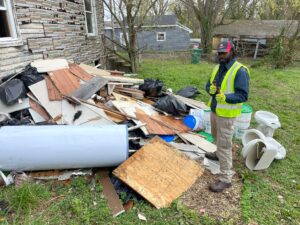 A little to the north and east of Richmond lies Mechanicsville, an unincorporated area covering almost thirty square miles. From its historic roots with Rural Plains, where Patrick Henry met his bride Sarah, to the modern day windmill on Mechanicsville Turnpike, there is plenty to see, do, and fall in love with in Mechanicsville. Junk, however, is not one of those things – and when you are looking for junk removal Mechanicsville VA, there is no better team to have on your side than the Junk Goats.
The Junk Goats have been boggling the minds of our clients and customers since we were founded back in June of 2020. From single item removals like a mattress, couch, or old appliance, to full blown home and storage unit cleanouts, the Junk Goats have you covered when it comes to clearing the clutter and keeping Mechanicsville beautiful. They are dedicated to helping keep central Virginia clean, green, and beautiful, and offer several other services as well as junk removal. With their mind boggling quality of service, communication, and professionalism in each step of the junk removal Mechanicsville VA process, getting a quote from the Goats is an easy, pain free way to clear your clutter and reclaim your space!
What is the Best Way to Get a Free, Firm and No Obligation Quote from the Junk Goats?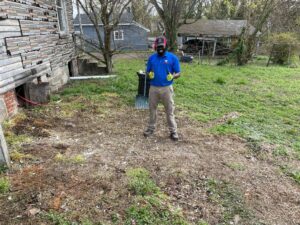 The Junk Goats are on hand to help clean up almost any junk removal Mechanicsville VA situation you might have for them. They begin each and every clutter clean up job by taking stock of every piece of junk you are looking to get rid of, whether that be by donation or by taking it to the local dump or landfill. After determining how much space your junk will take up in our truck, we will give you our free, firm, and no obligation quote for removal. How can you get the ball rolling on your very own quote? It is easy as can be – you are already halfway there!
There are two forms located on our website, the request for a quote and the online booking form. Each will ask for a small amount of information regarding your junk removal job, as well as your name and the best contact information for you. Our local Richmond employees will contact you as soon as possible after receiving your forms to find the best possible two hour arrival window for our Goats to come out and deliver your free, firm and no obligation quote. If you would rather just speak to us directly about your junk removal Mechanicsville VA task, you are always welcome to give us a call at (804) 494-7999. It does not matter if you are looking to get rid of a single item or clear out an entire house worth of stuff – we are happy to help with any size junk removal situation!
Keeping Mechanicsville Green with Donation Services and More!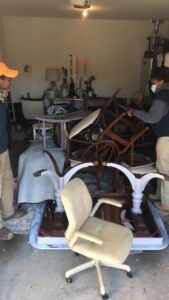 We do not just junk everything we come across, however. Part of the Junk Goats mission is to help save space in landfills and dumps by repurposing your lightly used items, either by taking them to a local donation center or thrift store or by re-selling them ourselves, with the proceeds being donated to the Special Olympics. That's right – not only are you getting a needed service completed for yourself, but you can help out your community or a charity at the same time! It is part of how the Junk Goats stand head and shoulders above the competition when it comes to junk removal Mechanicsville VA. Aside from donation services, we also offer:
Minor Demolitions: this is for items like sheds, hot tubs, playsets, garden boxes and more. Our Goats will take the time to determine the safest, most efficient way to take apart your items and haul them away with no fuss or muss!

Attic and Garage Cleanouts: Out of sight, out of mind… until the space runs out in your attic or garage! Do not worry, the best junk removal Mechnicsville VA has to offer, the Junk Goats, are ready to clear that space back up for you!

Yard Debris Disposal: After fall sweeps through Central Virginia, there is a plethora of branches, sticks, leaves and more to be cleaned up. Give the Junk Goats a call and don't worry about breaking a sweat as they handle it for you!
No matter the size of your job, the Junk Goats have you covered. We come to your property clean cut, uniformed, and ready to get the work done regardless if we are just removing a single mattress or whether we have been tasked with clearing out your property from top to bottom. The Junk Goats are here for your needs.
Have Your Mind Boggled with the Junk Goats!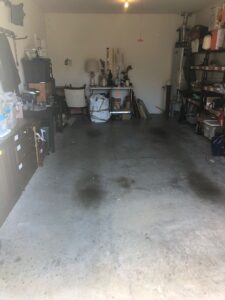 Mechanicsville, Virginia is a historic place in the central Virginia Piedmont region. The natural beauty of the rolling hills and picturesque landscape are maintained by the wonderful citizens of the town, but when they get overwhelmed, there is only one junk removal company they trust to get the job done right the first time. With over four hundred total reviews from across the central Virginia area, the Junk Goats have been boggling our clients and customers minds since June of 2020, and can not wait to do the same for you in Mechanicsville. 
In order to get the ball rolling for your own junk removal adventure, give the Junk Goats a call today! Their Richmond based offices are open til 5pm Monday through Friday and staffed with locals who know the area and who are ready to listen to your junk removal needs. The number to reach our offices directly is (804) 494-7999 or you can visit us on the internet at www.junkgoatsrichmond.com. The two forms to send in are more than enough for us here at Junk Goats to contact you to help keep Mechanicsville clean, green and beautiful for years to come!