Yard Debris Removal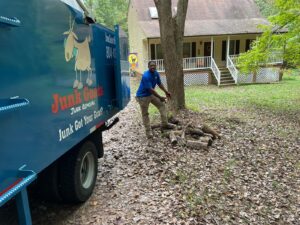 ​Living in the great Commonwealth of Virginia, we are almost spoiled by the near boundless natural beauty that surrounds us. From our beaches, rivers and lakes, to the mountains and valleys, and the hills in between, our state has a scenic quality to it that is hard to beat. Unfortunately, our beautiful forests are mostly made of deciduous trees – trees that, by definition, lose their leaves and foliage each fall, growing new ones in the spring. A charming process to be sure, but one that frequently sees our yards, common areas and more littered with organic junk. As luck would have it, the Junk Goats Junk Removal team is willing, ready, and able to help with you reclaim your outdoor areas from this yearly process with our junk removal service in Richmond, VA.
However, the changing of the seasons is just one of many different factors that can ultimately clutter and clog your yard full of debris and junk. An active hurricane season as well as the unpredictable bouts of severe weather our state occasionally endures can be both another component of an ever growing messy yard situation. No matter how it got there, our capable crew of Junk Goats has the know-how and skill to get your space cleared, cleaned, and ready for your continued enjoyment.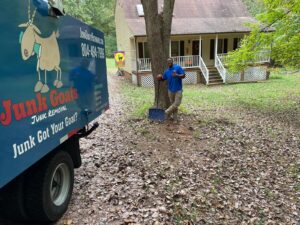 It isn't just bagged leaves and tree branches that the Junk Goats can haul away for you either! Here are a few more things that our Junk Goats team will be happy to take off your hands:
• Bagged Grass Clippings / Leaves / Sticks – As mentioned above fall is a gorgeous time in Virginia… until it comes time to clean and remove its byproducts. The Junk Goats do not just stop with bagged leaves though; we will also happily take your bagged grass clippings and tackle that pile of sticks that has been languishing in the corner of your yard.
• Branches / Tree Limbs / Pre-Cut Downed Trees – the end of the summer in Virginia not only heralds the coming of fall and the changing of the colors of leaves, but also the start of our primary hurricane season. Strong winds and harsh, lashing rain can combine to create more debris and detritus than we are used to dealing with on a day to day basis. Here at Junk Goats, we would be more than happy to help take away any storm debris, including tree branches and limbs as well as downed trees that have been cut into pieces. We will also take every precaution in your outdoor spaces so as to not damage them, leaving them in better condition than when we arrived!
• Sports Equipment – Got an old basketball hoop that does not get played with much anymore? Perhaps some tennis netting and racquets? Had to call off street hockey too many times due to traffic, and are now wondering what to do with the goals? Regardless of which outdoor athletic activity you have chosen to take up, you will be cheering on our team of Goats as they help remove your sports junk! With the greatest of all time (huh, G.O.A.T!) Junk Removal Service Richmond active and working in the greater Richmond metro area, you can rest assured that our team will be able to make you cheer and leave you with a big win. GO GOATS!
•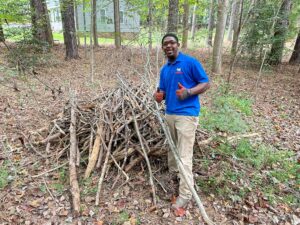 Gardening Implements / Tools – A well maintained garden can be the pride of the home, overflowing with gorgeous blooms and tidy shrubbery. The process itself can be substantially aided with the use of garden tools, planting pots, bags of pH balanced soil, and more. Eventually though, use and the flow of time can render these objects less helpful than before, and sometimes they can even become unwanted additions to your yard! Fret not, however, as the Junk Goats Junk Removal experts are willing and able to take your unneeded lawn care equipment. With our skill and junk removal service Richmond prowess, as well as our extra care cleaning your junk filled area, after one visit from the Junk Goats your yard will once again be the pride of the neighborhood!
• Old Lawn Furniture – Tables, chairs, umbrellas, and hammocks! While they tend not to accumulate as quickly as organic debris, after a good amount of time outside they can be quite the eyesore taking up space in your outdoor areas. Don't fret – that's where the expertise of the best junk removal service in Richmond – the Junk Goats Junk Removal squad comes in. We will be able to handle the furniture, accessories, bean bag toss sets, even a trampoline with the care and aplomb expected from our glowing reviews. No matter it being just a few lawn chairs or an entire outdoor dining set with a glass topped table, our Junk Goats crew has the skills to safely and efficiently remove your junk with care.
• Wet / Rotten Firewood – While a cozy fire crackling in the evening sounds like an absolute dream, the reality is that sometimes those stacks of firewood logs can become wet, moldy, and unusable. Our Junk Goats team will be able to haul your junk firewood, taking care in the process to keep an eye out for snakes and other creatures that may have been nesting in the piles. We pride ourselves on our commitment to safety and responsibility!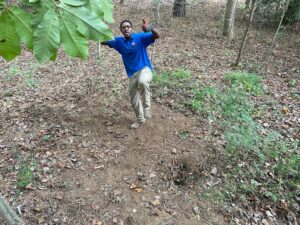 No matter the amount of stuff in your outdoor space, the Junk Goats Junk Removal service in Richmond crew is more than capable to tackle your job. We would love to help get you started on removing your junk with our courteous and friendly crew. If your yard has had a Mother Nature inspired facelift, or if you just need some debris taken away to return your outside spaces to the beautiful, peace and tranquility inspiring areas you expect, we would be more than happy to help you. Ready to get your outdoor spaces looking their best again? You can check us out online at www.junkgoatsrichmond.com and book a firm, free, and no obligation quote for your junk, or you can give our office a call at (804) 499-7999 to get started on reclaiming your yards and gardens today!