Helping Haul Hanover's Junk Away!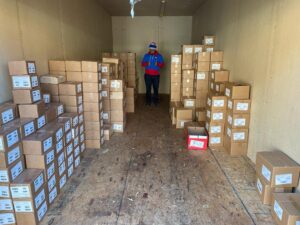 The Junk Goats, founded in June of 2020, are the very best choice for junk removal Hanover VA. Located in the western Tidewater region of Virginia, Hanover County was created on November 26, 1719, from the area of New Kent County called St. Peter's Parish. It was named for the Electorate of Hanover in Germany, because King George I of Great Britain was Elector of Hanover at the time. Hanover County was the birthplace and home of noted American statesman Patrick Henry, and was also the birthplace of Henry Clay, who became known as a politician in Kentucky, author of the Missouri Compromise of 1820, and Secretary of State. That's quite a bit of history tucked away into one beautiful central Virginia county!
Part of the county's charm is its natural beauty, with its softly rolling hills and picturesque farm landscapes. The Junk Goats are proud to have been helping keep Hanover county clean for over two years as the most mind boggling junk removal Hanover VA service available. We take pride in our commitment to professionalism, quality of service, and communication through each and every step of the junk removal process. We will get your Hanover property clean and cleared of clutter safely and efficiently – but that's not all the Junk Goats can offer you!
Donation Services, Storage Cleanouts and More!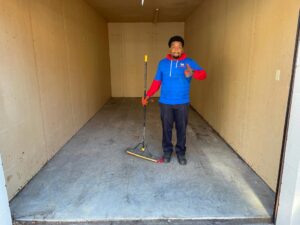 From the Chickahominy River to the fairgrounds and Kings Dominion, the Junk Goats are happy to help with any kind of junk removal Hanover VA. We have the know-how and ability to diagnose your junk situation, deliver you a free, firm and no obligation quote, and have your situation cleared up in no time. Not only will they haul away most any kind of junk for you, but they also offer a myriad of other services, including:
Donation Services: items too good to send to the landfill or local dump? We will take them to the nearest donation center to help keep Hanover County clean and green – and we will scan the receipt back to you for use on your taxes next year!

Storage Unit Cleanouts: turning in your key but not sure how you're going to move all that stuff by yourself? Call the Goats and the only finger you will lift is pointing out what needs to go – we will take care of the rest!

Yard Debris Cleanup: while the changing of the seasons is a beautiful occurrence in Hanover County, cleaning up the sticks, leaves, branches and more can be a pain. Let the Junk Goats handle your yard debris mess so you can get back to enjoying the natural beauty of the county!

Shed, Hot Tub, Playset Demolitions: old firewood seen better days? Got a hot tub that is collecting water and not memories? Empty nester with a swing set that has not seen use in years? Never fear, the Junk Goats and their plethora of tools are here to take those items apart safely, quickly and with a smile.
With all of these services and more available to help keep Hanover county beautiful, there is no better time to call the Junk Goats for your very own free, firm and no obligation quote for junk removal Hanover VA!
Keeping Hanover and Central Virginia Green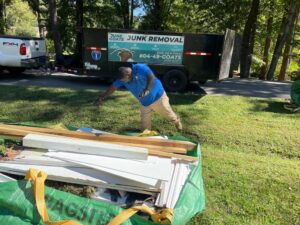 The Junk Goats are environmentally conscious. This means we will take any available opportunity to save your junk items from taking up precious landfill and local dump space. If any items of yours appear lightly used, we are more than happy to donate them to a local center, ensuring the items get another shot at life and enriching the community at the same time. Other items are repurposed and proceeds are donated to the Special Olympics. No matter what kind of junk removal Hanover VA task you may have for the Junk Goats, they are ready to take it on and save you time, money and effort!
Getting Your Own Free, Firm, and No Obligation Quote
So you are a Hanover resident, and you have some junk that needs to get hauled away. How do you go about getting the best junk removal Hanover VA has, the Junk Goats team, on the job? It is as easy as can be.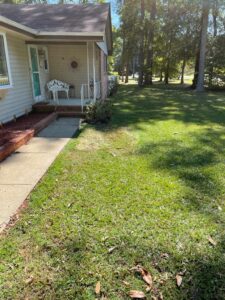 The Junk Goats home office is located just south of Hanover in beautiful Richmond, Virginia. We have a staff of metro Richmond natives on hand – they know the area and are ready, willing and able to help you out with clearing whatever clutter you might have. Reaching our home office is easy, and can be done two ways. The first is right here, on this very website! We have a request for a quote form as well as an online booking form that you can fill out with your name, address, and a brief description of your junk removal needs. Once we have received that, we will get connected with you as soon as possible to discuss the best way to clear the clutter and set you up with a two hour arrival window on our schedule. You are also welcome to call us directly at (804) 494-7999 to book as well!
Once you have your arrival window set, you will receive a reminder text and email the day before your appointment, as well as a courtesy call thirty minutes before your Junk Goats team arrives. They will assess your junk situation, deliver your free, firm and no obligation quote – and with your approval, that junk will be loaded up and hauled away right then and there. It is easy when you utilize the best junk removal Hanover VA has to offer, the Junk Goats!
See the Junk Goats difference today!
What are you waiting for? With over four hundred total five star reviews from previous clients and customers across the central Virginia region, isn't it time you did your part to help keep Hanover county clean? Call the Junk Goats today at (804) 494-7999 to see how mind boggling our quality of service, communication and professionalism is. We are happy to help keep Hanover clean for many more years to come!