Shed Demo & Removal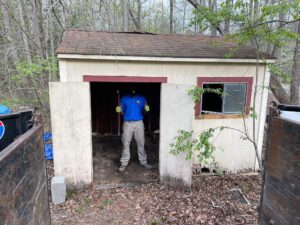 Shed demo & removals. Junk comes in all shapes and sizes, and at Junk Goats Junk Removal Service Richmond, we take pride in our ability to get it packed up safely and quickly, and hauled away in our truck. A majority of the junk we are asked to take can be capably and efficiently loaded into our truck right there on the spot by our professional Junk Goats team. However, there are items that while considered junk, take more than just a little bit of elbow grease and lifting to be able to remove. Old, dilapidated sheds and rotten decks, as well as unused hot tubs that can seat up to ten people are, by virtue of their construction, too outsized, bulky, and quite possibly dangerous to just up and haul away. Never fear, though! We at Junk Goats Junk Removal pride ourselves in our ability to haul your junk away, giving you peace of mind as well as your space back, and to that end, we offer minor demolition services for items such as these. If our junk removal crew is unable to reasonably load your large item into our truck on our visit, it will more than likely need a demolition appointment to turn your large, unwieldy piece into much more manageable pieces. We here at Junk Goats Junk Removal services have the experience, skill and know how to be able to complete your demolition job to your full satisfaction.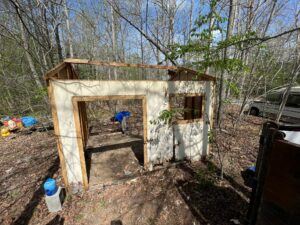 Our process starts when you contact us, either by filling out a free, firm, and no obligation quote form on our website (www.junkgoatsrichmond.com) or by calling our office at (804) 494-7999. We will work with you to schedule the best time for our  Junk Goats Junk Removal Service Richmond squad to come out and view your items that need removing. When our crew arrives, they will be able to give you a firm, free, and no obligation quote on your job, as well as any extra information regarding scheduling a demolition appointment. As demolition services are much more involved for our workers physically, we at Junk Goats Junk Removal services like to make sure we block out a large enough amount of time in order to safely deconstruct and remove your large debris. After both parties agree on the best date and time to begin the deconstruction and demolition of your unwanted items, our Junk Goats will survey the item we have been asked to take down once more. This is to make sure that upon our return to your address, we have taken the time to determine the best course of action and set of tools to use for your particular job. No two demolition appointments are ever quite the same, so preparation is absolutely the key to success in this circumstance.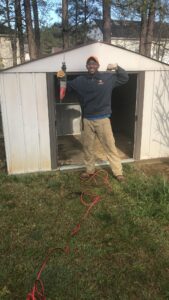 With sheds and other standing structures, our  Junk Goats Junk Removal Service Richmond team starts at the top and works their way down in order to ensure the maximum safety of the structure during the entire process. That way, there's no surprise collapse of the remaining structure to remove, as it is stripped from the top down in a way that will minimize the dangers present in deconstructing a standing structure. We treat rotten decks in the same way, working from the top down where applicable so that the weight of the structure does not further damage your property in the case your item gives way. With the survey of your piece to be demolished, the  Junk Goats Junk Removal Service Richmond in charge of hauling it away will come to the job site with all the tools necessary to complete the task. Our capable Junk Goats crew will work efficiently to break down your items into easily hefted pieces – and if they're too large for one of us to carry, we will always take the time to carry it as a team. It's part of the professionalism and dependability that Junk Goats is proud to offer with every job, no matter the size – we are here for you, and we are here for each other.
It is said that preparation is the key to success – something we believe in wholeheartedly at Junk Goats Junk Removal Services. Ensuring the job is done right requires the right tools, whether that be a hammer, screwdriver, Sawzall, drill, or more. We always make sure that any power tools necessary to complete the job at hand are fully charged or have a battery backup just in case. While safety is our top priority during any junk removal job, it is especially important during demolition services are called for – and that includes the safety of your property around the area of concern. Our crew even goes the extra mile to make sure of a clean environment where your unwanted rubbish once stood, taking the time to check for any metal connectors, screws, nails, and other debris that could have been a part of the demolition process. We are not finished with our job until the customer has been satisfied with our mind boggling professionalism, service, and quality of work.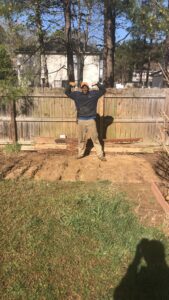 Once again, due to the nature and size of these jobs, we generally need more than our standard 2 hour window to be able to complete everything to the customer's satisfaction. Occasionally, and for our biggest jobs, we will sometimes require more than one trip to and from your item that needs removal. Junk Goats is ready and more than willing to take on these jobs as long as they will fit into our customer's schedules. If you have a shed, deck, hot tub, or other item that absolutely needs to go but do not know where to start, reach out to your friendly, local  Junk Goats Junk Removal Service Richmond experts. We'll help you get the ball rolling on reclaiming your space back from old, rotten, unstable structures. To schedule a firm, free, and no obligation quote from our team, give our office a call at (804) 494-7999 or fill out our online booking request form at www.junkgoatsrichmond.com. You will be glad to have chosen to work with the top junk removal service for Richmond, Virginia!