Hoarder Cleanout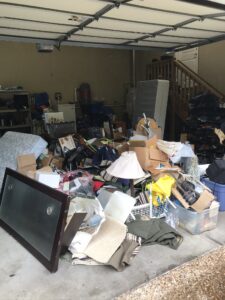 ​Hoarding is a tragic, and yet all too common, factor in some people's daily lives so Junk Goats Junk Removal Services of Richmond are here to help with any and all size hoarder cleanouts. Whether or not they even mean to, the need to keep and store everything can quickly develop into an obsession that is ultimately detrimental to not only their living space and physical well-being, but to their friends, family and loved ones. Historically, houses, apartments and rooms where hoarders stay can not only be emotionally draining (so much to sort through!) but physically dangerous as well, as free standing piles of knick knacks, clutter and other items can be easily knocked down. These 'structures' can also provide a haven to insects (ants, cockroaches) and other vermin (mice and rats), all of which can be vectors for disease inside the living space of the hoarder. Hoarding areas are themselves, by dint of hoarding itself, unclean as well, further endangering the lives of those who live in these spaces. In addition, items are generally left disorganized – so a stack of newspapers could very well be hiding some old dinner knives or unused but primed mouse traps. It all adds up to an almost paralyzing situation that can be difficult to even know where to begin.
More often than not, it is those friends, family members and loved ones who are burdened with trying to help prevent the situation from growing worse. While the process itself may seem completely overwhelming, it is something that we here at Junk Goats Junk Removal Services Richmond have experience in dealing with, and we are more than happy to help get your hoarder space cleared out for you, as well as for them. From the very first step in our process, you can rest easy knowing that our Junk Goats team has the expertise, professionalism and sincerity to help unburden you and your loved one from the specter of hoarding.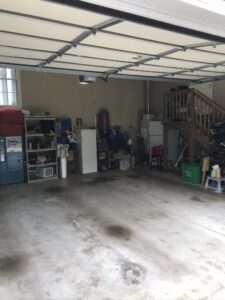 The process begins with a visit to our website (www.junkgoatsrichmond.com) to book a firm, free and no obligation quote, or by giving us a call at (804) 494-7999. Our friendly and courteous office staff understand that hoarding situations are not to be taken lightly, and will put your mind at ease knowing you've chosen to work with the best junk removal service in the Greater Richmond metro area. We will work with you to arrange a day and time that fits in your schedule in order for our crew to come out and assess the hoarding situation. At Junk Goats, we understand that there is no one size fits all glove for hoarding, so our first step in person is to accurately gauge the amount of space in our truck necessary to complete the job. No matter the size of the job, we are more than happy to help tackle it, but considering many of the dangers listed above we strive to keep safety a priority, especially in hoarding jobs. If the amount of items in your hoarder's space is too much to tackle within our standard allotted time, we will go the extra step to schedule a date and time that works with our client to ensure a completed job to their full satisfaction.
Once our free, firm, and no obligation quote has been accepted, our hardworking Junk Goats Junk Removal Services of Richmond will start working as safely and efficiently as possible. We know that reclaiming the space taken up by months and years of hoarding is the primary goal, but our crews also take extra care so as to not damage any of the surrounding areas the debris was in. Due to the dangers involved with clearing out a hoarding space, including the possibility of sharp objects and living creatures, our professional team of Junk Goats Junk Removal Services of Richmond take extra precautions when dealing with a hoarding situation. Gloves are worn to protect our crew from any cuts, scrapes, or even bites. We take care to remove the stacks of junk and rubbish from our hoarder cleanouts from the top down, doing our best to make sure that there is no collapse of debris that could hinder our junk removal process. Great care is taken with any items found that can be taken but could still be hazardous to our crews, clients and the hoarder, such as broken glass and metal scraps. Our truck will be loaded in a secure and efficient manner until your space is cleared out. If our truck is filled prior to the job being completed, we will simply haul what we have off and return as quickly as possible with a fresh truck to continue clearing your space out.
While we take great pride in our ability to help return a sense of normalcy to the lives of hoarders and their loved ones, there are some items that we would be unable to take due to their hazardous nature. They include items such as oil pans, old paint cans as well as spray paints, antifreeze, and any liquid that cannot be reasonably and safely poured down a storm drain. We understand that some of these items could, by the very nature of hoarding, be hidden from view, and take the utmost care when they are identified to not further damage your property.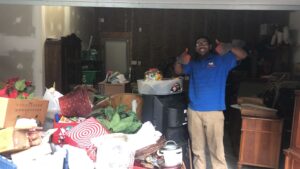 Regardless of how the situation began, hoarding can quickly take over not just a person's life and home, but the time and energies of those around them. We understand that these situations are draining emotionally, physically, and financially, and are more than happy to help bring back a sense of purpose and space to your hoarder and their areas. With our professional and understanding team of Junk Goats Junk Removal service Richmond experts at hand, you can have the peace of mind that your space will be reclaimed in a secure, safety oriented and capable manner. The first step in any journey will always be the hardest, but the Junk Goats have the expertise to help see you and your loved ones through. To schedule a free, firm, and no obligation quote from our Goats to help clear out your hoarder's space, give our office a call at (804) 494-7999, or visit our website at www.junkgoatsrichmond.com to fill out a booking request form.