Keeping Chester VA Clear of Clutter!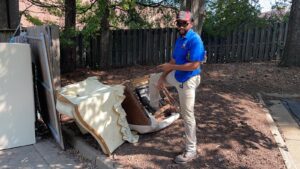 Looking for the best junk removal Chester VA has to offer? Look no further than our community's very own Junk Goats junk removal service! We have been helping residents clear their clutter from Chester since June of 2020 with our mind boggling customer service and professionalism. Many of the locations in the greater Richmond metro area are teeming with history, and Chester is no different. From a Revolutionary War battle to the merging of railroads at the turn of the 20th century, Chester has seen it all – and we are here to help ensure any junk contained within is quickly, safely and efficiently hauled off. 
What Can the Junk Goats Do for Me?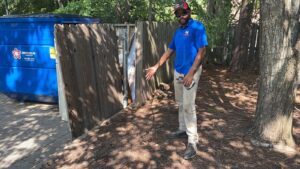 Since being founded in June of 2020, the Junk Goats crew has been boggling the minds of the citizens of the greater Richmond metro area, including Chester, with their commitment to professionalism, quality of service, and communication. No matter the junk removal job you have for them, they are ready to help get it sorted out! The Junk Goats are more than happy to get you a free, firm, and no obligation quote for your junk removal Chester VA needs, including (but not limited to)
Appliance removal and disposal – we do not charge any extra disposal fees for appliances and electronics, unlike our competition!

Mattress removal and disposal – just like appliances and electronics, there are no extra mattress fees when you use the Junk Goats!

Playset and shed demolition – out with the old, in with the newly gained space!

Storage unit cleanouts – need to return your keys? Call the Goats and have your space cleared without breaking a sweat!

…and many more!
The Junk Goats are more than happy to take almost anything you can ask them to the local landfill or donation center (more on donations in just a bit!). As long as the items are not considered 'hazardous' in nature, like old oil pans, paint cans, medical waste and others, the Goats will load them up and haul them away, leaving you with a fresh, cleaned space!
Keeping the Environment Green
We mentioned above that the Goats will take items to a donation center as well as the local dump or landfill. That is right – not only can the Junk Goats help out with junk removal Chester VA, they also are committed to helping keep the environment clean. To help accomplish this goal, we take any lightly used items to the nearest donation center so that they can get a new lease on life. The Junk Goats crew will even scan in the donation receipt back to you to use on your taxes next year. Just think – getting your junk removed, freeing up all that space, and even a discount on your taxes! Nobody goes above and beyond to help their customers and their communities like the Junk Goats do.
Getting in Contact with the Goats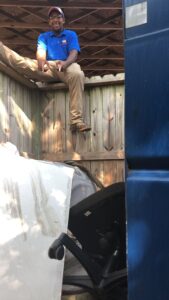 Booking the Junk Goats for junk removal Chester VA is as easy as can be, and can be accomplished in several ways. You are always welcome to call our Richmond based offices directly at (804) 494-7999 to speak with a friendly Richmond area native about your junk removal needs. They will work hand in hand with you to find the best two hour arrival window for our Junk Goats to come out to your property to deliver you our patented free, firm and no obligation quote. We can also be reached via our two online forms located on our website, the Request for a Quote and the Online Booking form. The Junk Goats office staff will reach out to you when you submit your forms and we will make sure your junk is gone in a flash!
When you have your two hour arrival window set on the schedule, we will make sure to send a confirmation message as well as a reminder 24 hours before your appointment. The day of your visit with the Junk Goats, you will even get a courtesy call approximately 30 minutes before your Junk Goats team arrives. There is no mystery when it comes to our methods, and our wake of satisfied clients and customers are the proof of that.
Don't Take it From Us – Hear From Our Customers!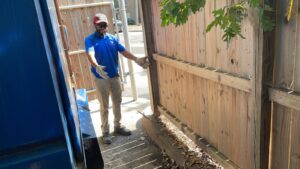 We could spend all day talking up the positives of the best junk removal Chester VA has to offer, but why just take it from us when you can hear it from previous Junk Goats clients and customers! Not only do we have over 300 glowing five star reviews on Google from customers who have had their minds boggled by the quality of service that the Junk Goats offer, we have an entire YouTube channel with video testimonials as well that can be found here. The Junk Goats make sure that every job is completed to the customer's full satisfaction and communicate with them every step of the way, putting us head and shoulders above the competition.
Junk Goats – the Right Choice for Chester Junk Removal
So whether you are looking to have an old, dilapidated shed dismantled and hauled away, an attic cleared out or even a single appliance removed, the Junk Goats Junk Removal services team are on your side. They will treat every junk removal job, no matter the size, with the same mind boggling quality of service. We are more than happy to help contribute to the many years of history that is baked into the land of Chester, and look forward to helping the residents out with their junk removal needs for many more years to come! If you are ready to have your mind boggled by the best junk removal Chester VA has to offer, we are ready to help clear that clutter for you. Remember, you can send in an online booking form or a request for a quote form to have us call you, or you are more than welcome to call our offices directly at (804) 494-7999.